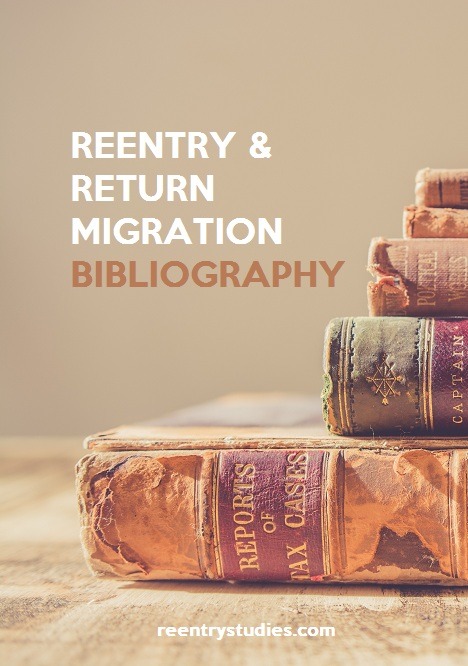 REENTRY & RETURN MIGRATION STUDIES
This page has been made by the geographer & author Anne-Laure Fréant, also founder of a website & community for reentry in France (retourenfrance.fr). Anne-Laure has been living in Canada and New-Zealand, studying, working and backpacking, before coming back to France at the age of 30. Facing depression, anxiety, identity crisis and a deep sense of loss for several months, she started to investigate the reentry literature, in addition to her previous academic work on identity and transnationalism, looking for a way to heal.
This long and slow recovery lead to a book (The Guide of Reentry in France – updated each year since 2016), a 10 000 people support community online (on Facebook) and a job as a consultant for the Ministry of Foreign Affairs in France.
The « reentry studies » project is a synthesis of her bibliographical research over the last three years. It has been made for students, researchers, professionnals of reentry, journalists or anyone going through reentry at a personnal level. The core value of this project is to make this knowledge available for everyone, as well as encourage more people to work and conduct research on reentry, especially over its psychological, social and anthropological dimensions.
Project includes a full PDF downloadable bibliography (around 300 entries), open access to a matching Evernote Booklet & Google Drive spreadsheet (to sort references by author or year) (per request at annelaure -at- retourenfrance.fr), articles and books reviews (of ressources we particulary used as material to build the Reentry Guide to France – to come soon).
Download the bibliography
Access our 16 pages and around 300 entries bibliography of academic references. Focus is on psychological, anthropological and sociological aspects of reentry, with a few references on return migrations as well. If you are a student, a researcher or any professionnal looking for a good basis to start your research on reentry, this bibliography will definitely help !
Please consider making a donation HERE to support our research work if you find this bibliography useful.
There is an obvious lack of data and visibility on reentry in the french context. There are no proper ways of tracking citizen trajectories once they leave the country, as it is not mandatory to register as « abroad » and most people don't do it. As a result the qualitative knowledge on the abroad population, reentry and what follows is extremely poor, which contributes to maintain a political perspective on « expats » that does no longer reflect the objective reality of contemporary mobility. Social sciences have not been very keen on working on reentry either, also because culturally France is seen as a country of immigration, not emigration.
Reentry in France has not been been considered seriously by the institutions until 2015. So far it was the subject of short sections or chapters in larger annual reports on « The French Population Abroad » (« Les Français de l'étranger« ), mostly focused on demographical data. The first qualitative official report published by the french government in 2015 on reentry is based on a set of 5000 questionnaires and around 30 long interviews with experts and executives of the international mobility sector. It sets up a good basis for further research, despite treating only the administrative issues of reentry.
In 2018, the first report on life abroad for disabled people has been produced. It has a small section about reentry, quite interesting to read as the data collected are the first on this very topic in the french context. Once again, it treats only of the administrative side of mobility.